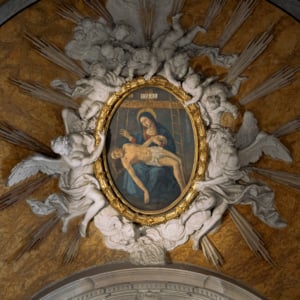 Pietà
Unknown Artist, second half of the sixteenth century.
There are no elements to allow attribution or a date for this painting representing the Pietà. The author was presumably a mediocre Neapolitan mannerist, and the work was created before 1590. It was around this date, according to the remarkable story of the historian d'Engenio Caracciolo, that the first miracle worked by the sacred image took place. The oval is framed in a fine starburst of stucco angels by Paolo Persico in 1769.
Leaving the Pietà's artistic merit aside, its historical significance lies in its role in the foundation of the di Sangro Chapel itself. In the late 16th century, the Duke of Torremaggiore, Giovan Francesco, commissioned the first chapel to house this painting. The later expansion of the chapel would lead to the constuction of the Sansevero Chapel, also known as Santa Maria della Pietà. For much of the 17th century, the Pietà was situated in the where the Deposition is now, until Raimondo di Sangro relocated it above the altar and placed it within Persico's starburst.